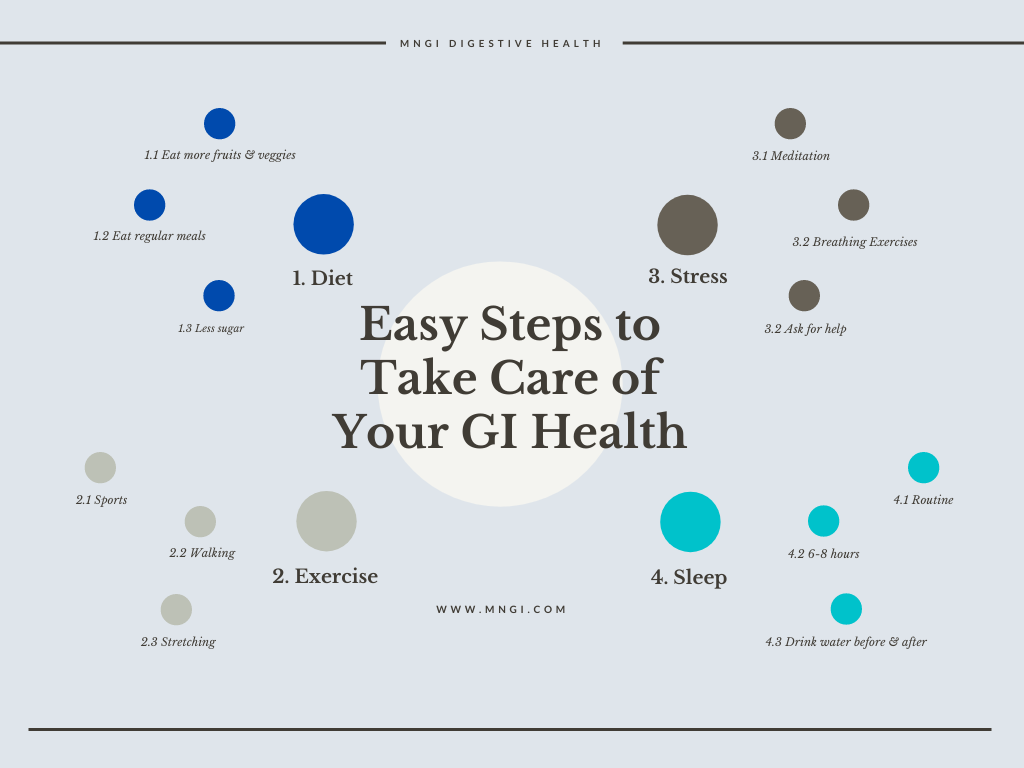 Living with inflammatory bowel disease (IBD) adds new obstacles to everyday life that can sometimes be hard to navigate. With the help of the Crohn's & Colitis Foundation, one of MNGI Digestive Health's community partners, we are able to provide our patients with resources that can help make each day just a little bit easier.
Learn more about how your diet, exercise, stress, and sleep can impact how you feel with IBD. Useful links to the Crohn's & Colitis Foundation's website are also available so you can learn more about healthy habits that will make you feel even better!
Diet –
Eating well can affect your overall health as well as have a big impact on your IBD symptoms. There is no one-size-fits-all diet for IBD. Everyone is different but having a healthy diet can drastically impact how you feel.
The food you eat when you are in remission may be different than the food you eat while you are having a flare. Your care team can help you navigate the best options for you, but it is important that you keep track of foods that can "trigger" your IBD symptoms.
The Crohn's & Colitis Foundation offers some general diet recommendations for IBD patients, including lists of foods that may be difficult for you to digest and lists of foods that might be easier on your stomach. You can read the full list on their website and use it to speak with your doctor about your dietary concerns.
Exercise –
Everyone knows the benefits of adding exercise to your daily routine! But when IBD comes into consideration, the perks can be even greater.
After talking to your care team and being approved to exercise, find an activity that you enjoy. Walking, dancing, and riding your bike are all excellent ways to move your body! Remember to drink lots of water (especially if you have an ostomy) and take it slow if you are first starting out.
If you are experiencing a flare, it sometimes is best to let your body relax and limit exercise. As always, talk to your doctor before making any changes.
Stress –
Living with IBD can add even more stress to an already busy life. Navigating your care, restroom stops, and the sometimes-painful symptoms can negatively impact your health.
Try adding activities to your daily routine that help reduce the stress you experience every day. Reading, exercising, or even visiting with friends or loved ones are all ways you can lower your stress and increase the chances that you will feel better emotionally and physically.
Your mental health and emotional well-being are just as important to manage as your IBD. Learn more about how you can improve your day-to-day life by caring for your mental health with resources from the Crohn's & Colitis Foundation. You can also find support programs and resources here.
Sleep –
Sleep is a wonderful way to reset and relax after a busy day. But sometimes your IBD can get in the way of achieving a restorative and restful night's sleep.
There are many ways you can help avoid IBD getting in the way of catching some z's, but one easy way to stay on top of your symptoms is taking notes. When pain keeps you from getting your beauty rest, keep notes! It is a great way to relay information to your care team when you take detailed notes of the time and severity of your symptoms.
Your doctor and care team can always help you recognize signs or recommend new lifestyle options to manage your Crohn's disease or ulcerative colitis. It is also important that you make good choices every day with your diet, amount of exercise, and sleep you get, and how you manage stress. By educating yourself on IBD, you are taking an important step in living a happier and healthier life.
Read more about the resources the Crohn's & Colitis Foundation has on their website!