Why Choose MNGI?
At MNGI Digestive Health, it starts with a promise. A promise made by nationally recognized leaders. A promise that combines groundbreaking research, and innovative new procedures, with compassion for an unrivaled patient experience. And it's delivered by caring people who specialize in caring for people. Because nothing matters more than your well-being. That's our promise to you. We are MNGI and you're in good care.
MNGI Digestive Health is a nationally recognized leader in gastroenterology diagnosis, quality and care.
Our Twin Cities-based physician practice specializes in the diagnosis and treatment of adult and pediatric digestive system disorders and our gastroenterologists have expertise in virtually all aspects of gastrointestinal (GI) care.
All MNGI physicians are board-certified or eligible gastroenterologists, who have completed two to three years of GI training in addition to an internal medicine or pediatric residency. Gastroenterologists also receive specialized training in endoscopy, a diagnostic procedure which uses a flexible, lighted tube with a built-in video camera to examine the inside of the digestive/intestinal tract.
Endoscopy Centers & Clinics
MNGI Digestive Health (MNGI) currently owns and operates several outpatient clinics and endoscopy centers, which are located in Bloomington, Chanhassen, Coon Rapids, Eagan, Maple Grove, Northeast Minneapolis, Plymouth, Saint Paul, Vadnias Heights and Woodbury. The MNGI endoscopy centers provide comfortable, patient-centered care and are consistently ranked by area health plans as some of the most efficient and cost-effective outpatient facilities in the Twin Cities. In addition, we have partnered with North Memorial Health to provide endoscopic procedures at ambulatory surgery centers in Maple Grove and Minnetonka, as well as clinical care in Maple Grove, Minnetonka and Robbinsdale.
Pathology Laboratory
Early in 2007, MNGI expanded its practice to include a full service, in-house pathology laboratory to expedite biopsy diagnosis and reporting for patients, their families and referring physicians. 
Biopsy specimens and tissue samples are picked up twice each business day from our outpatient endoscopy centers and couriered to the MNGI pathology laboratory in Northeast Minneapolis, where they are processed within six to eight hours of patient procedures.
Hospital Pathology Associates (HPA) physicians, who are highly respected and specially trained in gastrointestinal pathology, read and interpret specimens on-site, often the same day they are received. Biopsy results are available 24 to 48 hours post-procedure, greatly reducing patient wait time and anxiety. 
Leading Edge Technology
Our gastroenterologists are known for their use of screening technology - such as colonoscopy, endoscopy, radiology, ultrasound and high resolution manometry - to assist in patient diagnosis and treatment planning.
Moreover, because of our highly trained personnel and well-equipped facilities, MNGI has access to emerging technologies that are often unavailable to other practices, such as the BRAVO pH capsule, HALO ablation for Barrett's esophagus and video capsule endoscopy.
Patient & Community Education
Since 1996, MNGI has provided GI education to its clinic patients and to the general public. MNGI Digestive Health physicians and staff regularly present community-based seminars to increase public awareness about important health issues, such as colorectal cancer symptoms, risk factors and screening.
Clinical Subspecialization
Many of our physicians specialize in areas such as pediatrics, inflammatory bowel disease (IBD), acid reflux, esophageal disorders, colon cancer prevention, liver and biliary tract disease, hepatitis and pancreatic disease.
In addition to our regular outpatient clinics, MNGI has developed three comprehensive, multidisciplinary programs to address the unique needs of people with IBD, hepatitis/liver disease and acid reflux. These clinics are designed to provide coordinated, state-of-the-art care to people with chronic GI diseases.
Hospital & Inpatient Services
MNGI Digestive Health physicians maintain collaborative relationships with local primary care providers, providing much needed patient screening and diagnostic services as well as unique expertise in the management of unusual or chronic GI diseases.
Every day, MNGI gastroenterologists are scheduled at local hospitals for on-site consultation with physicians, hospital staff and patients. Our doctors contribute to effective diagnosis and efficient treatment, often resulting in decreased inpatient lengths of stay and increased patient satisfaction. MNGI Digestive Health also provides therapeutic and interventional inpatient GI procedures when needed, such as endoscopic ultrasound.
Research
Over the years, our doctors have been some of the first to introduce clinical advances in GI diagnostic and therapeutic techniques, making MNGI a leader in gastroenterology practice. As a frequent participant in national research studies - such blue light treatment of the stomach for eradication of H. pylori and trial medications to treat Hepatitis C - the practice provides opportunities for patients to participate in multi-center national and international clinical research trials.
A Top Workplace in Minnesota
We are caring people caring for people... and are committed to providing patients with the best in patient care. Our employees and physicians love what they do and their feedback to an independent research firm has placed the company on the Star Tribune's list of Top Workplaces in Minnesota. MNGI has been named a Top Workplace every year that the organization has been a participant.

MNGI Digestive Health (previously Minnesota Gastroenterology, P.A.) was created by a formal partnership of three independent Twin Cities GI practices: Digestive Healthcare, Gastroenterology Consultants and St. Paul Gastroenterology.
Digestive Healthcare had its beginnings in 1973, when Drs. Arnold Kaplan, Cecil Chally and Joseph Tombers came together to specialize in the diagnosis and treatment of patients with GI disorders. Similarly, Drs. Paul Dickinson and Al Belsito created St. Paul Gastroenterology in 1973. And, in 1975, Drs. Arnold Brier and Thomas Bagnoli founded Gastroenterology Consultants.
Choosing to specialize in gastroenterology care was an innovative concept in the mid-1970s. Not only were the three physician groups forerunners of today's modern GI practice, but each proved to be very successful: over the ensuing 20+ years, the groups added multiple partners and locations before deciding to consolidate into one comprehensive, collaborative practice in 1996.
Today, MNGI Digestive Health is one of the largest and most respected independent specialty practices in the United States. More than 100 gastroenterologists, physician assistants and nurse practitioners provide a full range of cognitive, diagnostic and therapeutic GI services to patients from throughout the Upper Midwest.
Our Mission:
We are committed to improving patient health by providing premier gastroenterology care.
Our Vision:
We will accomplish our mission by:
Caring for our patients in a safe, compassionate manner by providing evidence-based medicine
Providing leadership by defining clinical standards through available scientific knowledge, best practice and innovative treatment
Collaborating with patients, employers, care systems, referring providers and insurers, using our performance and outcome measurements to demonstrate accountability and improvement in our care delivery
Attracting and retaining great talent by actively promoting a professional, satisfying work environment and sustainable organization
Recognizing each other as a valuable member of our health care team and treating one another with loyalty, respect and dignity
Our Core Values:
 At MNGI, we are caring people caring for people and our culture reflects our Core Values of Compassion, Teamwork & Integrity.
Compassion - We are empathetic and considerate of the needs of our patients and caregivers.
Teamwork - We support each other in meeting the needs of our patients, are accountable for our own actions and respect the voice/opinions of others assuming good intent.
Integrity - We demonstrate honesty, trustworthiness, and transparency whenever we interact with our patients or each other.
Why Choose MNGI Digestive Health?
MNGI Digestive Health is committed to continuous quality improvement in order to achieve our organizational mission. We are committed to improving patient health by providing premier gastroenterology care. We strive to create an environment where everyone takes ownership of improved patient outcomes and where high value is placed on collaboration and communication in the spirit of learning. We use a variety of methods to continually measure the quality of our patient care to ensure that we are exceeding our own internal standards as well as state and national standards.
Colonoscopy Quality Measures
We monitor colonoscopy quality measures on an ongoing basis to ensure each physician is meeting national guidelines. Here are a few of the many areas we measure:
Adenoma Detection Rate (ADR) - how often we find precancerous polyps during colonoscopy
Withdrawal Rate—how much time we spend looking at the colon
Completion Rate—how often we have reached the furthermost point of the colon for a complete look
We also follow CMS ASC Quality guidelines for colonoscopy surveillance intervals to ensure we are recommending the appropriate follow-up time for the next colonoscopy.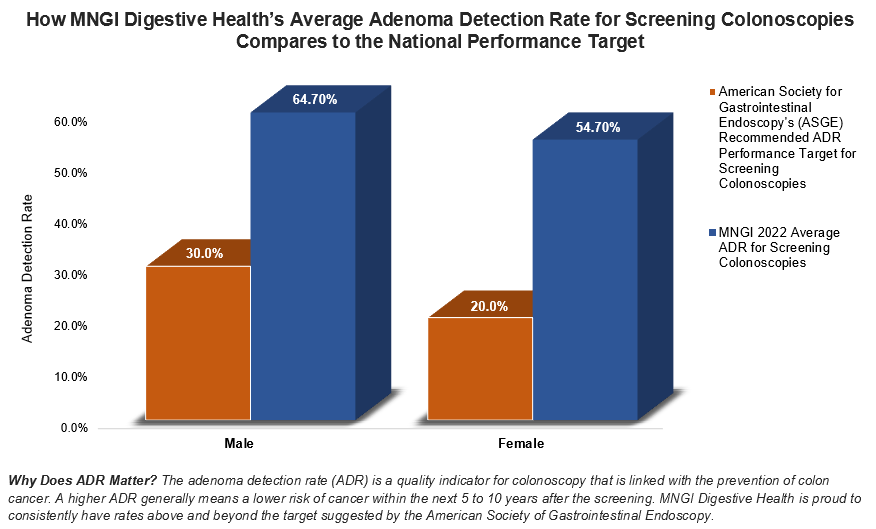 Patient Satisfaction
In our ongoing commitment to patient satisfaction, we are continually soliciting feedback from our patients to make sure we are delivering the best patient care at every visit.
Medical Practice Survey

- A patient satisfaction survey administered by a 3rd party vendor to 

patients seen by a provider in our clinics.

 The survey is used to gather feedback from patients regarding provider communication, access to care, office staff, courtesy and respect, and overall provider/facility rating.  The survey scores are reviewed internally & utilized to establish improvement opportunities for patients seen in our clinics.

OAS CAHPS

- A patient satisfaction survey administered by a 3rd party vendor to patients seen in our ambulatory surgery centers (ASC).The survey measures patients' experiences on topics that are important when choosing an outpatient/ambulatory surgery provider for their surgery or procedure. The survey scores are reviewed internally & utilized to establish improvement opportunities for patients seen in our ASCs.

Patient Liason - Our Patient Liason's primary role is to research concerns brought forward by patients with an unbiased approach. They are a central point of contact for patients, so you never feel lost in the shuffle while bringing forward a concern. Patient feedback is a valuable component to improving our standard of care, and gives us an opportunity to enhance the experience of our patients. We strive to research all sides and aspects of each concern, to arrive with a fair determination.

Additionally, the Patient Liason has an opportunity to join efforts in the development of an organizational culture which focuses on empathy driven care and a positive and meaningful patient experience. Our priority is to treat each patient as an individual with courtesy, respect, and understanding. As someone who is on the front-line speaking with our patients, we have the opportunity to utilize your feedback in a productive way by contributing to the development of our staff and providers. Please click here to submit a compliment or concern.
Infection Prevention
At MNGI Digestive Health, we are committed to maintaining an on-going, active Infection Prevention Program. The Infection Prevention Program ensures our Ambulatory Surgery Centers are compliant with all CMS requirements and reviews current national guidelines and standards relating to infection prevention practices on a regular basis. MNGI Digestive Health follows these guidelines and standards to minimize the risk of infections and communicable diseases, to specify the type of equipment and processes used for the cleaning and disinfection of each scope, and to make recommendations for practice changes, improvements and education to ensure the highest quality of patient care. 
Choosing Wisely®
MNGI Digestive Health has chosen to take part in the Choosing Wisely® campaign, an initiative of the American Board of Internal Medicine (ABIM) Foundation, which aims to empower communication between the patient and the provider about certain tests and procedures. The goal is to ensure that appropriate and quality care is being delivered based on the individual needs of the patient and the current situation, and to avoid overuse of tests or procedures which may be unnecessary.
Click here to view a list of the 5 initiatives from the American Gastroenterological Association (AGA).For more information on the Choosing Wisely® campaign visit: www.choosingwisely.org.
All MNGI Digestive Health physicians are board-certified or board-eligible gastroenterologists who have successfully completed formal endoscopy training.
All MNGI physicians who are treating children are board-certified in pediatric gastroenterology, making them uniquely qualified to meet the special GI needs of our pediatric patients and their families.
Our certified nurse practitioners and physician assistants all have specialized training in gastroenterology.
Meet our Senior Leadership team at MNGI Digestive Health. This team leads and works alongside our Board of Directors, providers and the rest of our staff to ensure that MNGI Digestive Health is a nationally recognized leader in the diagnosis and treatment of adults and children with gastrointestinal disorders.